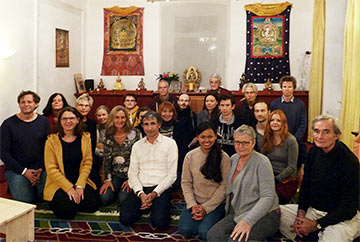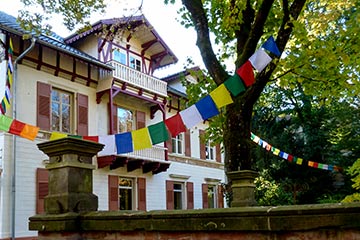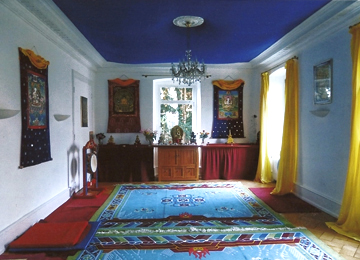 Buddhist Center Freiburg
The Buddhist Center Freiburg is associated with the Dhagpo Mandala, an association of European centres of the Karma Kagyu lineage. There is mainly taught by German teachers, who have been educated by the Tibetan meditation master Gendün Rinpoche. They can provide a broad spectrum of Buddhist teachings, ranging from introductions to profound comprehension and personal mentoring of practitioners.
The spiritual leader is the 17th Gyalwa Karmapa, Trinley Thaye Dorje During his visit in summer 2008, he has blessed the house and gave it the name «Karma Tsöndrü Ling»(Site of joyful diligence).
More than 80 practitioners of different ages and professions collectively run the centre and the house, in order to cultivate a place at which Buddhas teachings and practice are authentically passed on. The aim of the Freiburg Center is to transfer the timeless insights and methods of Buddhism in an comprehensive and effective way for people with a Western background.
There are regular daily events in theory and practice and on weekends announced intensive courses with qualified meditation teachers. The background is always the Buddhist tradition with its three aspects:
Buddhist knowledge: Philosophy and psychology – getting to know our minds
Buddhist Meditation: Exercises of Samatha and Vipassanā – experiencing our mind
Buddhist life: run house and center as a community – practice our mind in everyday life
Contact:
Buddhistisches Zentrum Freiburg der Karma Kagyü Linie e. V.
Stadtstraße 7
79104 Freiburg
Phone: +49 / (0)761 / 29 08 73 54
E-mail: info@buddhistisches-zentrum-freiburg.de
www.buddhistisches-zentrum-freiburg.de