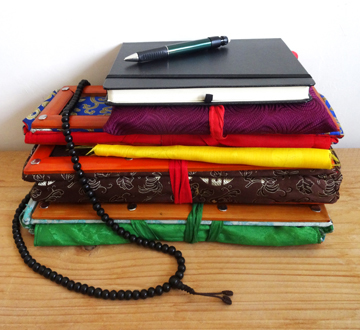 Training
In coordination and with the beneficial support of H.H. the 17th Karmapa Thaye Dorje and Jigme Rinpoche the Lamas Yeshe Sangmo, Sherab Palmo, Drubtscho and Lodrö have been offering a training module once a year since 2017: In this seminar the participants will learn essential elements for the guidance of meditations and knowledge for introductory lectures.
This seminar is aimed at all those who are already familiar with the practice of Dharma, who feel strongly connected to a centre and who wish to contribute by guiding meditations to maintaining continuity in the centre.
Additionally Khenpo Rigzin has been leading a three-week study course in Möhra since 2019 once a year: Getway to Knowledge. Khenpo Rigdzin was born in Dhenkok, Tibet, the birthplace of H.H. the 16th Karmapa. He is one of the main teachers of the Shri Diwakar Academy in Kalimpong (Northern India) and was called there by Shamar Rinpoche.
Newcomers are very welcome.
Retreat
The Dharma Center Möhra offers practitioners the opportunity for an individual retreat under the guidance of experienced teachers. In the retreat, one consciously withdraws from everyday life for a certain period of time in order to be able to concentrate fully on spiritual practice and to deepen meditation. Deep inner processes can be set in motion, whereby one learns to perceive fixed habit patterns and recurring emotions as processes. The newly gained insight opens up the possibility of transformation.
A retreat can be held in a single room in the house or in one of the retreat huts on the edge of the forest. In the quietly located bungalows, practitioners can devote themselves to their own meditation practice undisturbed.