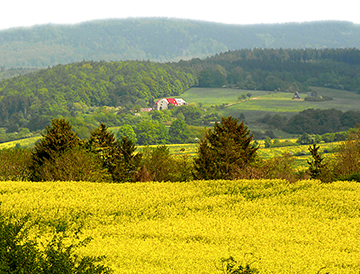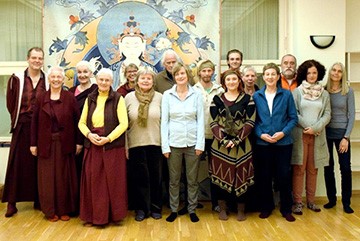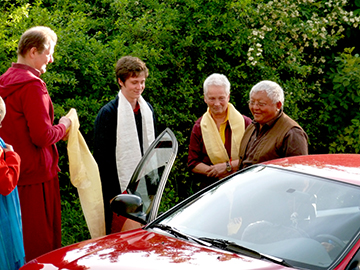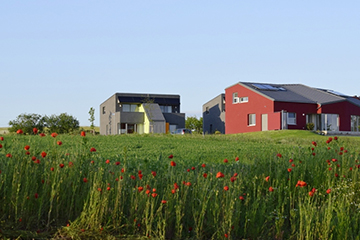 The Dharma Center Möhra is a place for Buddhist studies and meditation at which the teachings of the Buddha are presented according to the Karma Kagyu tradition, one of the four main schools of Tibetan Buddhism. Here individuals can obtain guidance on mind training through study, contemplation and meditation.
The spiritual head of the Dharma Center Möhra is the 17th Gyalwa Karmapa Thaye Dorje. His representative in Europe is Lama Jigme Rinpoche. The center is guided by Dharma teachers of the Dhagpo-Kagyu-Mandala who obtained their training in France under the direction of Lama Gendün Rinpoche. In the course of their training all of them have completed the traditional three-year retreat multiple times. In addition, highly qualified Tibetan rinpoches (masters) and khenpos (scholars) teach Buddhist meditation and philosophy at the Center.
During the first 10 years, the following rinpoches and khenpos taught at the Dharma Center Möhra: HH 17th Gyalwa Karmapa Trinley Thaye Dorje, HH 14th Kunzig Sharmapa Mipham Chökyi Lodrö, VEN Lama Jigme Rinpoche, HE the 2nd Beru Khyentse Chökyi Wangpo, HE 4th Jamgön Kongtrul Migyur Drakpa Sengge, HE the 3rd Jamgon Mipham Rinpoche, Lama Tönsang, Khenpo Tschödrak Rinpoche, Sabchu Rinpoche, Shabdrung Rinpoche, Khenpo Ngedön and Khenpo Thartse Rinpoche.
During the first 10 years, the following teachers of the Dhagpo-Kagyu-Mandala taught in Möhra: Lama Yeshe Sangmo, Lama Sherab Palmo, Lama Lodrö, Lama Drubtschog, Lama Irene, Lama Tsültrim Wangmo, Lama Yangchen, Lama Tashi Andreas, Lama Walli, Lama Tilmann Lhündrup, Lama Tsony, Lama Öser Bünker, Lama Drime, Lama Chönyi, Lama Djangschub, Lama Gerd, Lama Kerstin,Tsültrim Namdak, Drubla Kamil, Drubla Namröl, Drubla Chris, Drubla Marlies and Drubla Sabine.
Contact
Dharmazentrum Möhra
Kündröl Püntsok Ling e. V.
Hofmannshöhe 1
36433 Moorgrund-Möhra
Phone: +49 / (0) 36 95 / 85 07 52
E-Mail: info@dhagpo-moehra.org
dhagpo-moehra.org
Karmapa Foundation Möhra – Residental Project Möhra
In 2009, the 'Karmapa Foundation Möhra' was founded, which plays a key role in the development of the »Residential Project Möhra« on the outskirts of Möhra. Here, a non-profit and private living space is created according to Buddhist teaching and ethics; Regardless of their age or social background, people can share their everyday lives with mindfulness, awareness, compassion and joy.
Further information:
www.karmapa-stiftung-moehra.de or www.wohnprojekt-moehra.de