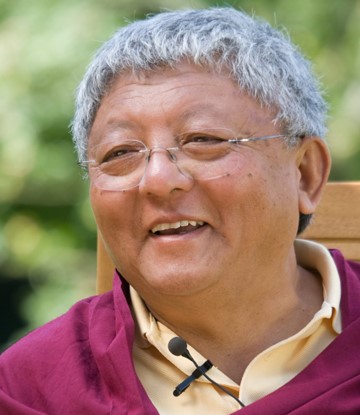 Timeline
Lama Jigme Rinpoche
1949
born in Deng-Kok, Eastern Tibet
1959
Jigme Rinpoche moves together with the 16th Karmapa and other Lamas to the Rumtek Monastery, Sikkim
1974
Jigme Rinpoche visits Europe for the first time
Since 1974
Jigme Rinpoche leads the center Dhagpo Kagyu Ling
Seit 2001
Jigme Rinpoche regularly directs the Dharma Net Meetings of the Dhagpo Kagyu Mandala in Germany
2005
Jigme Rinpoche inaugurates the Dharma Center Möhra
2012
Jigme Rinpoche is appointed General Secretary of the 17th Gyalwa Karmapa
2013
Jigme Rinpoche opens the Institute in Dhagpo Kagyu Ling
2014
Jigme Rinpoche inaugurates the foundation and guest house of the Karmapa Foundation Möhra
(will be continued …)
Jigme Rinpoche
Jigme Rinpoche was born in Derge (East Tibet), brother of the 14th Sharmar Rinpoche and nephew of the 16th Karmapa. When the 16th Gyalwa Karmapa Rangjung Rigpe Dorje left Tibet in 1959 with a retinue of many high Lamas and Tulkus of all ages and went to Rumtek (Sikkim), Jigme Rinpoche also accompanied him.
Arriving in Rumtek, the 16th Karmapa extended the monastery to preserve the precious teachings of the Kagyu line. Jigme Rinpoche studied the totality of the Buddhist canon under the guidance of various masters, and in particular the teachings of the Karma Kagyu Lineage, which he received the transmission of. From 1961 to 1970, Jigme Rinpoche was Karmapa's assistant to the Karma Kagyu lineage and, in his absence, took care of the monastery in Rumtek.
In 1974, during his first visit to Europe, he was appointed head of Dhagpo Kagyu Ling, his European headquarters in the Dordogne/France, by the 16th Karmapa. Karmapa said: "In the person of Jigme Rinpoche I give you my heart". Jigme Rinpoche continues his activities worldwide, visiting centres and inspiring all those who come into contact with him.
The 17th Gyalwa Karmapa Thaye Dorje has appointed Jigme Rinpoche as his deputy in Europe at an early stage, and in 2012 he will also be his Secretary General.
Jigme Rinpoche inaugurated the Dharma Center Möhra in September 2005 and has been visiting it regularly ever since. In addition, Jigme Rinpoche has been chairing the Dharma network meetings of the German-speaking Dhagpo-Kagyü Mandala since 2001, which have been taking place here in Möhra continuously since 2005. In 2014, Jigme Rinpoche inaugurated the foundation and guest house of the Karmapa Foundation Möhra.