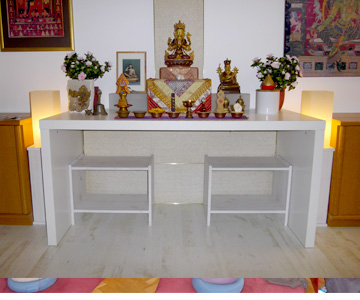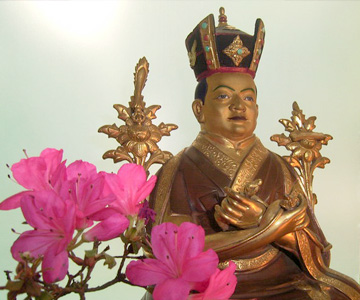 Buddhist Center Solingen
The Buddhist Centre Solingen was founded in 2008 and is a registered, non-profit association. The idea and initiative came from Lama Marlies and Michael Steiner. Since 2009 we offer a regular program and have been able to conduct numerous courses.
Since the end of 2015, after we were no longer able to keep the rooms in Deusbergerstrasse financially, we have been practicing in Solingen-Ohligs in a room with a large window to the garden, which has been provided by a friendly association and which has been converted into a meditation room.
We meet regularly (except for August and the Christmas holidays) on Thursday at 8 p. m. for the practice: either Chenresig puja or Shiné meditation. The costs of this regular program are covered by donations.
Weekend courses are planned once or twice a year.
Lama Tsültrim Wangmo has been teaching the group regularly on the subject of Chenresig for some years now. In spring 2017, a course about the Pāramitā was given by her which will be continued. Courses on meditation with Lama Tsültrim are also planned for December 2017.
Lama Lodrö has given a course twice a year on Lojong; we hope to continue this tradition. We would also like to express our gratitude to the many other Dharma teachers who have contributed to the understanding of the Dharma to the participants through their valuable contributions.
Every 1st Thursday of the month we offer an open evening at 8 p. m. for newcomers and curious people with conversations about Dharma, Sangha, and a Silent Meditation (Shiné).
Further information can be found on our homepage (see below).
Contact:
Buddhistisches Zentrum Solingen e.V.
c/o Michael Steiner
Siemensstrasse 31
42697 Solingen-Ohligs
E-mail: info@buddhistisches-zentrum-solingen.de
www.buddhistisches-zentrum-solingen.de