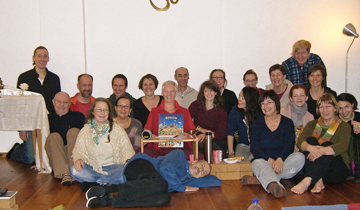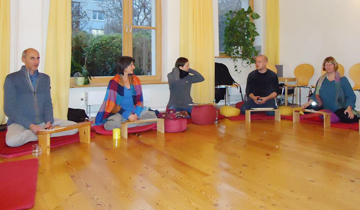 Dharma Group Berlin & Flying Dharma Group Berlin
Dharma Group Berlin
We formed ourselves as a Berlin group in the following of the (Germany-wide) Easter Course in 2002. There are two practice groups existing, firstly the «flying dharma group Berlin» (see below) for the region of Berlin-Center and Prenzlauer Berg, and secondly a further one for the southern part of the town.
Over the years, many Lamas of the Dhagpo Kagyu Mandala kept visiting us for different weekend courses. The wish came up to study the dharma more well-grounded. So the Lamas Yeshe Sangmo and Sherab Palmo taught for several years in the framework of a curriculum. Following that, they are teaching Lojong two times a year, to the present day.
We meet regularly for the practices of Green Tara, Chenrezig and Milarepa Tsog. For some years now, a study group is also working in a monthly frequency. The aforementioned activities take place in private apartments. For newcomers, we offer a Shiné practice two times a month at a public place.
Information on practice meetings and other information are distributed by mail distributor, to which anyone interested has access.
Contact:
Martin Hage
E-Mail: martinhage@web.de
Flying dharma group Berlin
The «flying dharma group Berlin» (fgdb) was founded in spring 2001 in Berlin by women from Stuttgart in order to practice Chenresig-Puja together. Since then, the "fdgb" has been meeting every 14 days, Monday or Tuesday at 19:30, in an apartment in the city districts of Mitte or Prenzlauer Berg. New singers are always welcome.
The meditation day and place will be announced via mailing list.
Contact:
Katrin Warnecke
E-Mail: ocker-b@gmx.net