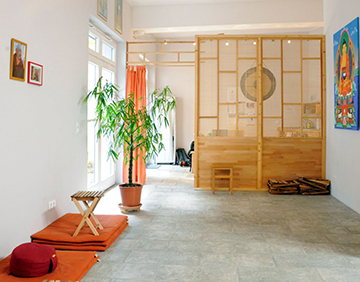 Dharma Group Münster
Hearing, contemplating and meditating in the tradition of Buddha
The Dharma Group Münster has been in existence since 2003 and wants to be a place of silence and encounter for all people who want to learn meditation, meditate together with others or to learn about the teachings of Buddha.
In a separate, quiet and beautiful room close to the city center there are regular weekly meditation appointments, introductions for beginners and advanced students, as well as events and seminars to introduce Buddhism and to deepen Buddhist topics and practice. All events are open for interested people.
Regular events:
Tuesday
5 – 6.30 pm: Kum Nye – Tibetan religious and medical body practices
7 – 8 pm: Shiné Meditation
On every 1st Tuesday of the month, 7 – 8 pm: Chenrezig Sadhana
Wednesday
Every 2nd Wednesday of the month,
6.30 – 7.30: Meditation for beginners
Thursday
7 – 8 pm: Loving Kindness Meditation (Mettā)
On every first Thursday of the month, 7 – 8 pm: Tonglen Practice
Weekend events and further information can be found on our website (see below).
Contact:
Dharmagruppe Münster e. V.
Aegidiistraße 61/62
48143 Münster
Phone: +49 / (0) 2504 / 40 70 (August Steinkamp)
or: +49 / (0) 176 322 69 040 (Jan Philipp Huss)
E-Mail: info@dharmagruppe-muenster.de
www.dharmagruppe-muenster.de
www.facebook.com/DharmagruppeMuenster