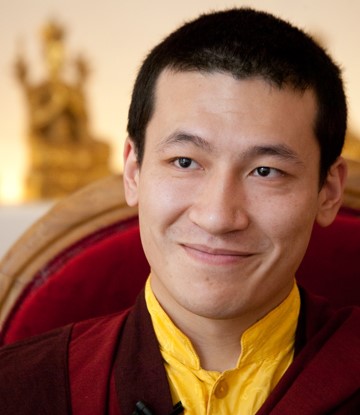 Timeline
17th Gyalwa Karmapa Thaye Dorje
May 6, 1983
born in Lhasa
1994
17th Gyalwa Karmapa Thaye Dorje is officially recognized by the 14th Shamar Rinpoche Mipham Chökyi Lodrö as the rebirth of the 16th Karmapa Rangjung Rigpe Dorje. The enthronement takes place at the Karmapa International Buddhist Institute (KIBI), Delhi, its headquarters
1996
the official refuge ceremony takes place during the Kagyu Monlam in Bodhgaya
since 1999
Gyalwa Karmapa travels extensively in Asia and Europe to guide and support many of his disciples and people who are spiritually connected to him on the path of Dharma
2000
Gyalwa Karmapa visits Europe for the first time
2003
Gyalwa Karmapa from Chobgye Tritschen Rinpoche, Lüding Rinpoche and Khentschen Rinpoche receives important transmissions of the Karma Kagyu Lineage
2003
Shamar Rinpoche gives Gyalwa Karmapa the title of Vidhyadhara, which formally signifies the end of his training and gives him the transfer of the Karma Kagyu lineage
2007 und 2008
Gyalwa Karmapa visits the Dharma Center Möhra
2010
Gyalwa Karmapa receives detailed transmissions of Pewar Rinpoche in Dhagpo Kündröl Ling during a two-month retreat
2014
Gyalwa Karmapa leads the burning ceremonies in honor of his teacher the 14th Shamar Rinpoche in Kathmandu (Nepal)
2017
On 25th March Gyalwa Karmapa marries Rinchen Yangzom
2018
On August 11th, Karmapa's son Thugsey was born
(will be continued …)
H.H. 17th Gyalwa Karmapa Thaye Dorje
The 17th Gyalwa Karmapa Thaye Dorje is the spiritual leader of the Karma Kagyu School, one of the four main directions of Tibetan Buddhism. In an interview given by Gyalwa Karmapa in 2012, he answers the question: »Your Holiness, what is a Karmapa?« as follows: »Karma is a Sanskrit word that means action or activity. In this case, the hidden meaning is a bodhisattva, meaning a person with a very kind heart and great wisdom, who holds and carries on the activities of the Buddhas.«
Gyalwa Karmapa was born in 1983 as Tenzin Khyentse in Tibet. Very early on, his father Mipham Rinpoche, who himself is a realized meditation master, gave him a traditional Buddhist training. In 1994 the family escaped to India, where Gyalwa Karmapa of the 14th Shamar Rinpoche, Mipham Chökyi Lodrö, the second highest teacher in the Karma Kagyu tradition, was recognized as the rebirth of the 16th Gyalwa Karmapa, Rangjung Rigpe Dorje. From Shamar Rinpoche he also got the name Thaye Dorje.
Gyalwa Karmapa began his training with teachers from all four major Tibetan schools: Shamar Rinpoche, Khenchen Rinpoche and others from the Karma Kagyu tradition, Chobje Tri Rinpoche and Luding Khen Rinpoche from the Sakya tradition, his father Mipham Rinpoche from the Nyingma tradition, and Professor Sempa Dorje from the Gelug tradition.
The 17th Karmapa continues the activity of its predecessors worldwide. He has spiritual responsibility for more than 900 monasteries and meditation centers worldwide. Since 2000 Gyalwa Karmapa has been visiting Europe regularly. In August 2007 he came to Möhra for the first time and blessed the Dharma Center Möhra.
The Karmapas are among the most important holders of the teachings of Tibetan Buddhism. The first Karmapa, Düsum Khyenpa (1110-1193), was considered to be one of the most important lamas of his time. Before his death, he hinted to his students that he would accept birth again in Tibet. The second Karmapa, Karma Pakshi (1204-1283), is thus the first consciously reborn lama of Tibet. Since then, each Karmapa incarnation has made itself clearly recognizable as Karmapa through its behavior and has been confirmed by a realized disciple of the last Karmapa as its incarnation. The Karmapas are regarded as great bodhisattvas, i. e. as beings who repeatedly give birth for the benefit of others. In their incarnations, they have always made an important contribution to the authentic preservation of Buddhism in Tibet, and the 16th Karmapa, Rangjung Rigpe Dorje (1924-1981), has also made a major contribution to the teachings of Tibetan Buddhism being accessible in the West.