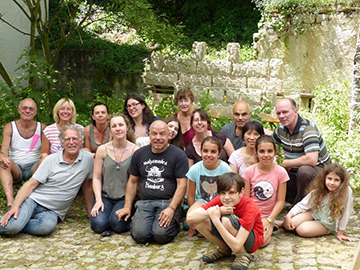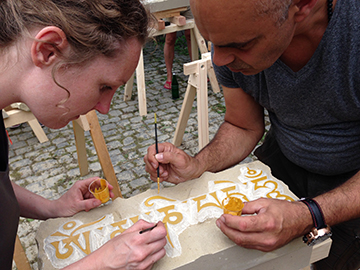 Dharma House Obermoschel (DHOM)
Due to the activity of the Mahamudra master Gendun Rinpoche the house was bought in 2003. It is taken care of by lay people under the spiritual guidance of His Holiness, the 17th Gyalwa Karmapa Thaye Dorje. The DHOM is dedicated to developing a deeper understanding of the basic principles of Buddhism.
The listed main house offers space for about 20 students in 6 bedrooms and one retreat room. For bigger courses, there is a dormitory to expand the capacity to approx. 30 beds maximum. In 2012, the sandstone temple with a 70 sqm gompa (meditation room) and a beautiful, wooden Douglas fir floor was renovated with generous donations and the diligent help of members, course participants, friends and sponsors.
Periodic Program
Weekly one-session meditations suitable for beginners include the Shine practice (silent meditation) on Mondays and the Chenresig puja (with mantra recitation) on Wednesdays.
On a monthly basis, we have the Chenresig practice days with several meditation sessions a day and the Samu days, the latter being a community day for looking after temple and house. For introduction into Buddhist topics, we regularly organize public lectures on a wide variety of topics related to Buddha's teachings and aimed at a general audience.
Weekend Courses
This includes introductory courses in meditation and mindfulness, as well as group retreats (e.g. Green Tara or Chenresig), and other Mahayana and Vajrayana courses.
The meditative crafts as practiced in the production of mantra stones attract new friends from near and far.
We also offer consecutive and interrelated weekend courses where people enjoy the close contact to friends and teachers to deepen their understanding of specific Buddhist topics (e.g. Lojong, Buddhist philosophy) facilitating the integration of what has been learned into everyday life.
Connected Buddhist Group Activities
If capacities allow, we make DHOM available for connected Buddhist groups, who organize their own courses with teachers in the Karma Kagyu Tradition. Moreover, a guest group practices Zen meditation on a weekly basis.
Please find out more on our website below.


Contact:
Dharmahaus Obermoschel
Wilhelmstraße 6
67823 Obermoschel
Phone: +49 (0)6362 620
E-mail: kontakt@dharmahaus-obermoschel.de
www.dharmahaus-obermoschel.de